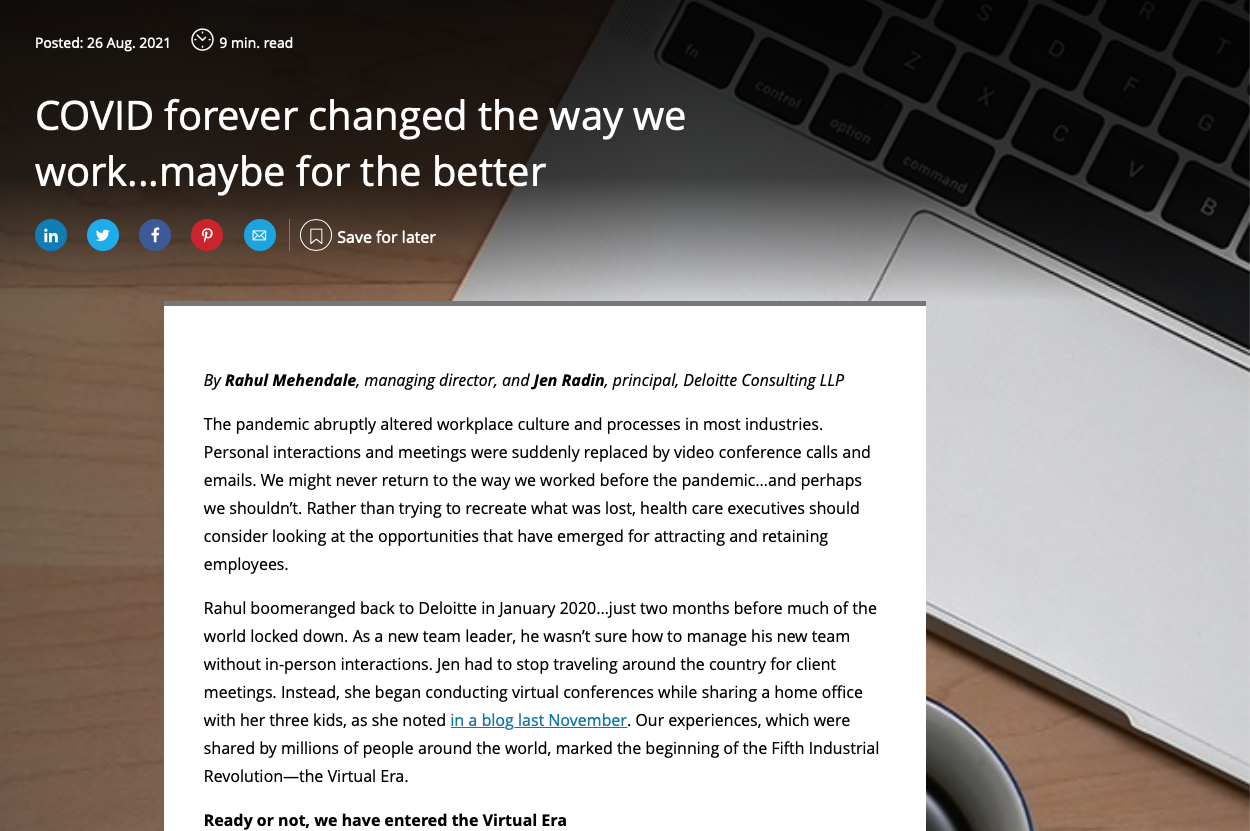 DELOITTE Posted: 26 Aug. 2021
By Rahul Mehendale, managing director, and Jen Radin, principal, Deloitte Consulting LLP
The pandemic abruptly altered workplace culture and processes in most industries. Personal interactions and meetings were suddenly replaced by video conference calls and emails. We might never return to the way we worked before the pandemic…and perhaps we shouldn't. Rather than trying to recreate what was lost, health care executives should consider looking at the opportunities that have emerged for attracting and retaining employees.
Rahul boomeranged back to Deloitte in January 2020…just two months before much of the world locked down. As a new team leader, he wasn't sure how to manage his new team without in-person interactions. Jen had to stop traveling around the country for client meetings. Instead, she began conducting virtual conferences while sharing a home office with her three kids, as she noted in a blog last November. Our experiences, which were shared by millions of people around the world, marked the beginning of the Fifth Industrial Revolution—the Virtual Era.
Ready or not, we have entered the Virtual Era
Work has historically referred to a location—the farm, the factory, the office, the lab, the hospital. The pandemic redefined what it means to be at work. Last fall, 41.8% of the American workforce worked remotely, according to the Bureau of Labor Statistics. That's up 87% from pre-pandemic numbers. Early on, many health care organizations made it possible for their non-clinical (and some clinical) employees to work remotely. Will those employees, and future workers, want to return to pre-pandemic work models? Our November 2020 report on The future of work and the workplace in health care found that two-thirds of health system and health plan employees were in favor of a hybrid model that combined remote and on-site work. Just 6% said they want to return to the five-days-a-week onsite schedule.
The Deloitte Center for Health Solutions recently surveyed financial leaders (chief financial officers and finance vice presidents or above) from 60 large health plans and health systems. We also interviewed the CFOs of 12 large health systems and health plans. Several interviewees told us they are considering hybrid work models that combine in-person and remote work. Under one model, employees will continue to work remotely but will come into the office for milestone events, planning exercises, or townhall meetings (in compliance with CDC recommendations, of course!). Health plan executives who allowed employees to work remotely before the pandemic said they are using technology to make it even easier for remote work to continue. In conversations with our health care and life sciences clients, it is clear that a seismic shift is underway.
After more than a year of lock-downs, quarantines, and remote work, many people are reevaluating their professional lives. The notion of working remotely from any location—from a home office, car, or the beach—is appealing and it's more possible than it was just 18 months ago. While some people want to return to in-person work, others might see value in a hybrid model that allows them to come in once or twice a week, once a month or just when in-person work is most meaningful.
An executive at a large pharmaceutical company recently told us that it his company is assessing which workforces will eventually need to return to the physical office…and how often. Another pharmaceutical client said she pushed back on pressure to take office space away from executives who opted to come into the office fewer than three days a week. She preferred not to come into the office at all but didn't want her office taken away.
Loss and opportunity in the Virtual Era
Some executives are looking at this new world through a loss lens and are focusing on what can't be replicated through virtual work. This might include the perceived loss of in-person brainstorming sessions, or ideas that are generated organically around a coffee machine or a work lunch. Other executives seem to be looking through an opportunity lens that reveals how digital tools, including artificial intelligence, can actually enhance collaboration and innovation.
In addition, hybrid work models might help improve diversity, equity, and inclusion. Consider this: Demographics might be less obvious in the Virtual Era, which can help everyone focus on the message rather than the person delivering it. We all inhabit the same-sized square on the screen during video conference calls—regardless of seniority, age, gender, race, or ethnicity. The ability to offer comments, react, or ask questions via the chat feature can make it easier for everyone's voice to be heard. Similarly, demographics might be less obvious in virtual clinical settings, and some patients might feel more comfortable texting or messaging a question through the portal to doctor than asking a question in person.
Non-traditional players, which are beginning to compete with incumbent health care and life sciences organizations, might view the Virtual Era as an opportunity to recruit professionals who are comfortable and even skilled at working in remote digital settings. That could help them penetrate markets even more deeply. Many large technology companies have already shifted to hybrid or primarily remote-work models. Alphabet, Google's parent company, said it saved $268 million in expenses during the first quarter of 2021 because most of its 140,000 employees worked remotely. The company says it could transition to a hybrid model this fall.2 Life sciences and health care organizations will likely be competing with these digital companies for talent and will likely need to offer candidates a similar level of work flexibility.
Some health care executives have started to analyze which employee populations should (and want to) return to a traditional office setting, which ones want to stay remote, and which employees want a bit of both worlds. Employee motivation, engagement, and empathy will likely be key drivers in assessing the right balance, according to survey respondents and the CFOs we interviewed. Hybrid work models will likely require health care stakeholders to balance capital on two fronts: